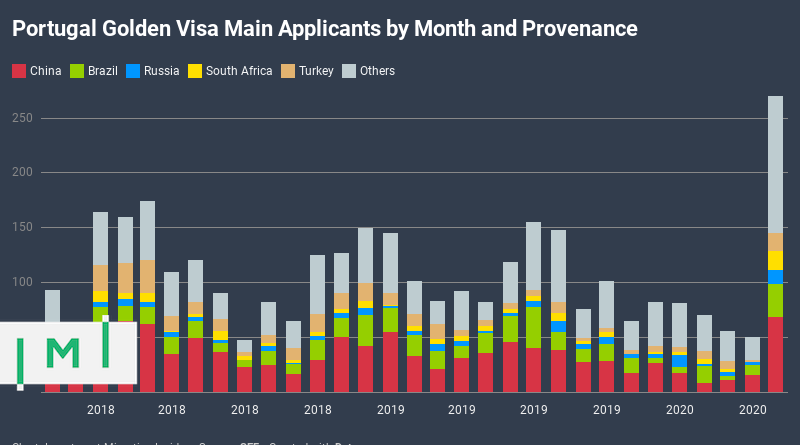 Portugal Golden Visa
From the beginning of the year to the end of April, a total of 259 Key Applicants have invested € 147.7 million in the program, a marginally low figure undoubtedly related to COVID-19. But the unprecedented numbers released by SEF for May 2020 show that the month's results have nearly offset the harrowing winter months. In one month, 270 main applicants invested € 146.2 million, which returned Portugal to a normal statistical state despite the pandemic.
The return is nothing short of extraordinary. May endorsements are 270% higher than April, 409% higher than April, while the € 146.2 million raised in May is 420% more than the € 28 raised a month earlier.
Residence permit in Portugal Number of applicants
At the head were the Chinese applicants, of whom there were only 15 in April; in May, 68 of them were approved. The Portuguese SEF does not differentiate between the main residents and Hong Kongers, but the latter are likely to make up a significant proportion of this group and, according to recent reports, will figure in even more numbers in next month's numbers.
Brazilians made up the second largest contingent, with 30 top contenders (up from 9). Americans accounted for 19 applicants (as far as possible, this is the highest figure for this nationality), the number was equal to Indians (another record), while Turks made up 17 main applicants.
Number of Portugal Golden Visa Applicants
May's unprecedented endorsement volume means the current year's cumulative more than doubled in one month, from 259 to 529, which - when extrapolated - would mean an annual approval for 2020 of 1,270, slightly higher than the 1,245 registered in 2019.
However, extrapolation of the investment amounts shows that the program will bring a little less than 2019, even despite a large number of approvals. This is due to the growing tendency among applicants to choose "alternative" investments, ie any investment other than the usual purchase of real estate in the amount of EUR 500,000.
Share of Alternative Investments for Obtaining Residence Permit in Portugal
So far, 31% of applicants have chosen alternative investments in 2020 (and this proportion has increased every month this year), up from 24% last year and 17% in 2018. The proportion of applicants investing in renovation properties (€ 350,000) and venture capital / investment funds is growing rapidly.
In particular, the investment fund option is gaining popularity among investors; so far, their share in aggregate terms has tripled, and in seven months of the year the absolute number of candidates who chose this option is already more than double the figure since 2019.
AAAA ADVISER will help you become a participant in investment projects in countries that are interested in the entry of financially independent persons. AAAA ADVISER is a licensed agent for official citizenship programs based on investment by migrants. Here you will receive help and expert advice on all issues of obtaining a residence permit or Citizenship by Investment.
Contact our specialist and we will advise you on all the options for obtaining a residence permit, permanent residence and Second Citizenship +79100007020
Visit our full site: VNZ.BZ