By the way, it was here that for the first time in the world, a program for obtaining a second citizenship was developed and implemented. In 1984, the first investors were able to get a second passport.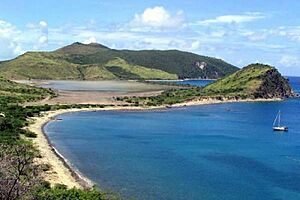 Saint Kitts and Nevis lives off banking services and offshore business, agriculture and tourism. It occupies only 261 square kilometers (two islands), and there is no wide choice of real estate. However, investors will be able to choose their own land, apartments, commercial space. There are options.
Immigration programs: real estate or donations?
Citizenship of Saint Kitts and Nevis is suitable for those who have money and who are willing to invest in their freedom. There are only two options:
Gratuitous contribution to the economy of the country. These are amounts from 250 000 dollars. It is impossible to return the money, and in fact, this contribution is the usual purchase of citizenship.
Buying a property worth 400 000 dollars.
With real estate more interesting, and more about the program, we will describe below. It is important that you have to pay additional fees and taxes, and the purchased object - to keep at least 5 years. After that you can sell it on any conditions.
In both cases, you receive citizenship for 10 months. Saint Kitts and Nevis does not pose complex, often impracticable requirements. There are only two of them:
no criminal record;
health.
The exact criteria for the health of the applicant should be obtained separately from an immigration lawyer or a representative of the authorities of St. Kitts and Nevis. In any case, you do NOT need to live on the islands (although no one takes you as a citizen this right) and you do NOT even need to visit the country to apply and get a passport. Everything can be done through a representative (lawyer).
What program should I choose?
And in fact, and in another case, you risk not to return your money. Rather, with a donation, you simply "buy" citizenship and quietly get a passport and all the privileges of a citizen of St. Kitts and Nevis. But in the second case, all the more interesting.
On the one hand, you can invest in real estate, and after five years with surprise to discover that it has fallen in price. On the other hand, things may turn out differently, and you will become the owner of a very profitable investment object (and sell it at a higher price). In addition, there are programs that are more like business investments.
It is also important that you can only invest in property approved by the government. You cannot come to the islands, choose an object by yourself, buy it back and demand citizenship. First you need to make sure that this object is approved.
Choosing the option with real estate, you do not just give money: you can return it in the same amount and even make a profit. It all depends on the chosen object.
SOME OPTIONS OF REAL ESTATE
Saint Kitts and Nevis, like other island nations in the Caribbean, attracts the attention of the wealthiest people in America, Europe and Asia. There are a lot of luxury real estate: villas, residences, apartments. Cost is high.
For example, in a four-bedroom villa with an area of over 360 squares, you will pay more than two million dollars. There are offers for 7 million and more. Not all of these objects give the right to citizenship, but if you can afford such a "country house", you will not have problems with your passport in any case.
Apartments and some villas are cheaper - from 400-500 000 euros. Often they are located on the territory of resort complexes and hotels. You can purchase one of these apartments and get the opportunity to relax in the Caribbean at any time of the year and as much as you want.
The problem is the same: in 5 years you risk not selling them at the price for which you bought. However, the prerequisites for the fall of the real estate market on the islands yet.
How to get citizenship and not lose money?
And with a donation, and with the purchase of ordinary real estate, you lose or risk losing money. If you are interested in a win-win option, you can familiarize yourself with it here.
Premier Suites Cottage offers the opportunity to redeem one of the four-bedroom apartments located in Hill Resort Kittitian. De jure is the purchase of real estate (and therefore the guarantee of a second citizenship), de facto - participation in a joint stock company. By investing money, you become a shareholder of the hotel and receive:
the opportunity to live free of charge in their apartments for two weeks a year (thus solving the problem of rest in an elite resort);
income from the rental pool (ie, your contribution will bring you a very specific profit, the size of which depends on the flow of tourists, and not on the desire of the owners of the company);
Preferred Residences membership, which will significantly expand your opportunities if you are interested in the tourism business.
Finally, you will be able to return the money back after 5 years. The company offers a buyback option at face value - unique in St. Kitts and Nevis and beyond. This means that if you bought a property only to obtain citizenship, you will return your money in full. And, importantly, get extra income and dividends.
One share costs 400,000 dollars - just as much as is needed for the state to issue you citizenship.
ST. KITS AND NEVIS: A WIN-WIN FORD FOR SECOND CITIZENSHIP
Many island states in the Caribbean offer to apply for second citizenship for investment. But not everyone uses transparent and honest schemes. Saint Kitts and Nevis has such schemes.
By purchasing a share in the hotel, you:
do not spend more than planned on the purchase of real estate;
save yourself from additional costs associated with the maintenance of apartments and villas;
You will be able to get a personal room in the elite hotel complex for 14 days for free;
receive dividends and income, as well as the opportunity to return the money in full after 5 years.
In fact, this participation in the tourism business, which will bring you quite a tangible benefit. And most importantly - citizenship and a passport of a country with which you can travel around Europe and hundreds of countries without a visa and do business without paying income tax. This is a profitable contribution to their future and the future of children.