The main role in shaping the modern economy of the country is played by tourism and offshore business. A significant part of the income is sales of bananas, nutmeg, root crops, cocoa and vegetables. For those who want to invest in the country's economy, the state opened its borders in 1997, since that time Grenada is an offshore zone.
GENERAL INFORMATION ABOUT COUNTRY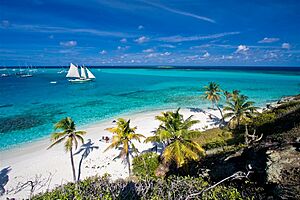 Grenada is a country on the island of the same name and the southern part of the Grenadines in the southeastern part of the Caribbean. It is a small western hemisphere in the West Indies that attracts businessmen and investors. In this country, they are waiting for tax freedom and a huge selection of proposals for profitable investments.
As for the island, it has a volcanic origin, there are few rivers here, but the country's water artery is made up of countless streams, lakes and springs. The land of Grenada is distinguished by its fertility, because it is not without reason that it is called the land of spices.
Locals year-round gather here a rich harvest of spices. The animal world is replete with birds of different species. And the depths of the sea around the island are fish, mollusks and crustaceans. A variety of flora and fauna attract tourists, they come not only on vacation, but also for successful real estate investments in Grenada.
Grenada is included in the Commonwealth of Great Britain, the official ruler is the Queen of Britain, its power is represented by the Governor-General. The capital of the state is St. George's. The country's population is 110 thousand people, most of them (90%) live on the island itself, the rest are settled on the adjacent islands. English is spoken here. It is convenient for tourists from different countries and knowledge of the language makes it easy to communicate with the local population.
THE COUNTRY – TROPICAL RESORT FOR THOSE, WHO WILL DECIDE TO AFFORD IT…
Rest in Grenada is attractive for yachtsmen, diving enthusiasts, family vacations of beautiful nature and mild climate. This is a favorite tropical resort, with high prices for rest, it is considered one of the most expensive. Prices for food, vegetables and fruits are quite high, for example, on average, fruits cost about 200 rubles.
You can stay at any hotel, here they operate a whole network. Among them you will find full-weight 5 "stars", a large selection of 3-star establishments, and for lovers of relaxation and romantic solitude - coastal bungalows. An excellent alternative to hotels is the rental of apartments or private houses. Property owners are happy to take care of the food of their guests. The cost of rent is 12-50 thousand in terms of rubles per apartment per month. Price depends on the area and location.
Property prices in Grenada are not much different from European ones. A wealthy person can afford a cozy villa by the sea or a large apartment in the resort.
UNINTERRUPTED HARBOR FOR CHILDREN AND A RELIABLE PIER FOR MONEY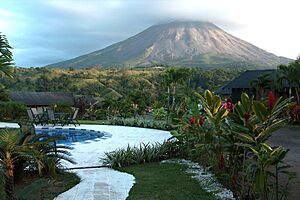 Grenada is an amazing country, it never ceases to please and give advantages. Thinking where to open a business company? Open here, you will not pay taxes, because it is offshore! The state is interested in investments. Both local and foreign businesses are developing on the island. Banks of Grenada offer to open an account and keep money on deposits. Confidentiality and full rights are guaranteed to everyone, not even a citizen of Grenada.
This is a unique place to relax. The local population is small, a little less than 3,000 people live in the capital, St. Georges. The order here is superbly monitored, in the tourist season, of course, the number of people increases, but this does not affect the safety of the rest or silence.
All cities and towns of the island have good infrastructure, the social sphere is well developed here. It is these advantages, combined with the hot tropical climate, black sand beaches, and transparent sea depths that make the island-state attractive for family, romantic, secluded holidays and property purchases.
REAL ESTATE IN GRENADA
You came across a cute little island, and you wanted to come here more often, and even better to live here? Buying a property in Grenada is a unique opportunity to get a second citizenship, plus it is profitable to invest your money savings, and private houses and apartments here are inexpensive by European standards. Real estate on the island itself is more expensive, those who want to save money without sacrificing convenience can purchase a private house near the islands.
Do not want to deny yourself the comfort? It is possible to purchase a luxury villa with a swimming pool in the 5-star resort. The cost of the villa is from 600,000 dollars. The price depends on the area and the number of bedrooms.
Affordable housing offered in St. George's, apartments on the sea with an area of 40 sq.m. in a 5-storey building with its swimming pool will cost only $ 350,000. There are unique condominiums for sale with an area of 100-300 sq. M. worth from 340 000 dollars. Apartments differ in layout and number of bedrooms.
GRENADA – IS ISLAND OF FREEDOM AND OPPORTUNITIES
Grenada is often compared to Cuba. In this country, gain complete independence in finance, business and movement. Close cooperation with the United States enables the Grenadians to visit the United States without a visa, live there, work and conduct business. No green cards and visas to citizens of Grenada - no!
The Grenadians will not have to apply for a Schengen visa to travel to Europe. By law, citizens of this country can freely travel and visit European countries. In addition, you will not need to pay any taxes on income.
DO YOU FIND NEW OPPORTUNITIES FOR YOURSELF?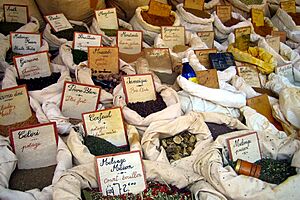 Are you dreaming to develop a business, to find a spare airfield with the conditions for comfortable rest and successful financial investments? Or do you want to open a window to the world of leading countries? It is easy and very easy to get citizenship of Grenada. It gives citizenship to all who invest in the economy.
Invest in the economy of Grenada and get a passport in 4 months? Real and simple. All the necessary information for this is on our website, here are described in detail all the programs for obtaining citizenship in Grenada.
It's possible to get a Grenada passport in just 4 months, it takes so much time to complete the documents. To come to the island to manage finances is not necessary. Even living here is not necessary. Abandoning the first citizenship is also not necessary, however, as well as paying double taxes.
What else do you want to know? What citizenship programs are available in Grenada?
HOW TO OBTAIN THE CITIZENSHIP IN GRENADA
Anyone wishing to acquire a second citizenship and get visa-free travel in the United States and Europe apply to special programs that work in Grenada. In this country, offer 2 options to acquire citizenship.
Irrevocable investments: in essence, this is the purchase of a country's passport, for this it is necessary to invest in the economy from $ 250,000. You immediately get a passport, you can take with you children up to 25 years old, spouse or spouse, as well as your parents, if they are over 65 years old. At the same time pay additional fees.
Buying and investing in real estate: there is a list of objects approved by the government, investing in it from $ 350,000 you immediately receive a passport. After 4 years, you can sell real estate and invest in another project in this or in another country. The fee for children, spouses, parents -25 000 dollars.
It is curious that most of the people who purchased the passport of Grenada were never on the island, they do not plan to move here. Many of them live in Europe or the USA. The procedure for obtaining a passport is as simple as possible, there are no intermediate permanent residence and a residence permit, it is not necessary to come personally to the country.
Want to become a citizen of Grenada? Learn your second citizenship programs in Grenada and find out how to do it right!