Here you will surely enjoy lovers of mountain rivers and waterfalls, diverse and unique flora and fauna, lovers of the sea and the underwater world. From Latin, the name of the island translates as "Sunday." It was on this day of the week that Columbus first entered the coast of this heavenly place. Perhaps because the atmosphere is saturated with relaxation, celebration, tranquility and fun. People come here from all over the world on vacation, and some even move to live.
WHERE CAN TOURISTS STOP: INTERESTING HOTELS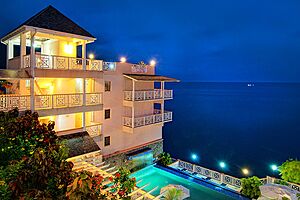 For those who want to come to rest, Dominica offers hotels with a gorgeous view and all the amenities in the rooms, and excursion programs designed for everyone, depending on their hobbies and preferences, will not leave anyone indifferent. In Dominica, hotels are divided into categories: from 1-4 star hotels to guest houses without stars. The cost per day ranges from $ 30 to $ 630 per person. About popular and unique places will tell below.
Secret Bay
Amazing place on top of a hill near the sea in Portsmouth. A great option for the rest of the newlyweds, spouses, lovers - everyone who wants to enjoy communicating with each other away from a noisy civilization. Here you will find:
a couple of luxurious villas, bungalows with attractive panoramic views;
two beaches with a gentle shore;
there is a river nearby;
and also available sea cave.
Fort Young Hotel
Location - Parish of St. George, Roseau. Great hotel right by the sea. On the one hand, a presidential palace was built, on the other, a pier for cruise ferries. The beach is not here, but there is a large swimming pool on site. Nearby is a dining room and a building with sports equipment.
Rosalie bay
Tourists Dominic offers hotels in Rosalie. 9 cottages with 28 spacious and comfortable rooms are presented for your carefree holiday. Of the advantages: 45 minutes drive to the capital, convenient transportation, proximity to the National Park and location at the mouth of the river. Here you can appreciate all the delights of ecotourism along the mountain paths, improve your health and relax in the spa with the help of volcanic mud, enjoy a tasty meal at the restaurant with organic local dishes.
Zen Gardens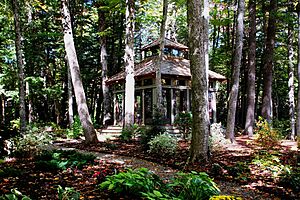 The hotel is located in St. Paul's Parish, Mahaut. In addition to the comfortable conditions in the rooms of the cottages, you will enjoy the variety of entertainment offered: diving, swimming in open caves, visiting places with waterfalls, hiking in the rainforest. The hotel's cuisine prepares local and European dishes: a lot of meat and fish dishes, they serve a variety of sauces, vegetables, fruits, legumes.
St. James guesthouse
Do you want to be in the center of events and have the opportunity to go anywhere in the country without problems? Then the hotel St. James Guesthouse is exactly what you need. It is located in the center of the capital - Roseau. There will be no large rooms or luxury cottages and villas. You are waiting for compact rooms with all the amenities and warm welcome of the owners. If you want to see as much as possible, relax in budget, then choose this guest house.
Castle Comfort Dive Lodge
Another hotel worth noting in Roseau is Castle Comfort. The sustained style in the interior and exterior is compensated by the saturation, brightness of the surrounding nature, possible entertainment.
Manicou river
In Portsmouth, Dominica hotels are also located in picturesque corners. Why are only the landscapes that open from a bungalow, views of the Manikou River. The rooms are in an open format: the walls are assembled from wooden plates with large gaps, and some walls are completely missing. It is a quiet, calm and fascinating place. Go boating, explore the underwater world, take a walk in the gardens with tropical fruits - everything is possible here.
Atlantique View Resort & Spa
In the Parish of St. Andrew, Calibishi placed a beautiful hotel in a vast area. Narrow paths are laid around the perimeter, many climb the hills. Staying in this place, you will kill two birds with one stone: look at the gardens from natural + artificial plantations and look around the neighborhood.
Sunrise Farm Cottages
You will find a home-style hotel in Richmond. The hotel will not have fancy rooms and terraces, but everything you need is at hand. In addition, the view of the surroundings is fascinating. Want peace and tranquility? This hotel is for you!
Wonders of nature: what to see and what to do?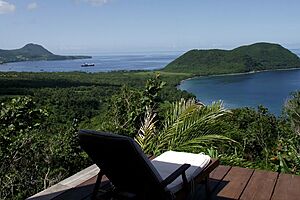 Not only visitors, but also local residents of the country admire the nature around them. Everyone will find something to do. Regardless of the location of the hotel, you can see such sights:
Botanical gardens and national parks with collections of more than 50 species of plants and trees. In such places, they often arrange various events: they hold national holidays, musical concerts.
Numerous fresh and salt water bodies - rivers and lakes. Most of them are formed in volcanic craters. The most popular are Boiling, Wonderful and Emerald Lakes. There are also many waterfalls, caves are hidden behind some.
Surface open spaces are waiting for you on yachts and boats. Surfing is common.
And the underwater world is available for discovery with the help of diving.
In the areas of Grand Seven, Champagne, Rodney Rock, Kostavay Reef, you can watch whales and dolphins in the natural environment - an incredible sight.
Often they hold carnivals and festivals, organize competitions in sport fishing.
Among the entertainment especially popular are hiking and horseback riding, master classes in needlework and handicraft.
Regarding transport: there are 2 operating airports on the island. They accept domestic and international flights. Well-developed ground transportation: taxis, jeeps, minibuses. You can rent a car. It is possible to navigate with the help of yachts and boats along the entire coastal strip.
Do not worry about medical care. Basic assistance will be provided to you, for this it is important to issue a medical policy.
Since the state language in Dominica is English, then communication with the local population is not difficult. French dialects are also common.
Do you want to change the status "tourist" for "citizen" of Dominica?
Dominica attracts a measured life - many would like to obtain citizenship and live in this paradise. The government takes care of the population and welcomes foreigners into the ranks of its citizens. You can get citizenship with the help of special programs for investors through investments in a development fund or real estate. The size of the investment is from $ 100,000 and depends on the composition of the family. You can also buy a property worth from $ 200,000.
Features of the programs:
no living requirements;
level of education is not important;
you do not need to pass exams or interviews for citizenship;
There is a visa-free regime;
There are no taxes for non-residents
More information about the conditions for obtaining citizenship of Dominica can be found at the link - you will be provided with qualified assistance and will answer all questions related to the procedure, its cost and terms.
Dominica is a country for rest and carefree life!