However, agriculture is also developed: bananas, nutmeg, cocoa, root vegetables, vegetables and much more are grown here. Heavy industry is not.
Since 1997, the state has opened borders for business and has become an offshore zone, and more recently offered citizenship to those who are willing to invest in the local economy.
GENERAL INFORMATION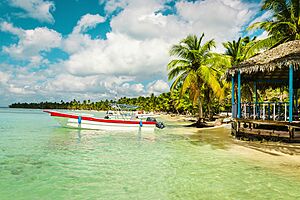 Grenada includes the island of the same name and part of the Grenadines in the Caribbean. This is the smallest state in the entire western hemisphere. Small and rich: it attracts investors and businessmen and gives long-awaited freedom from the tax burden.
Interestingly, despite the status of an independent state, Grenada is part of the Commonwealth of Great Britain, and the British Queen, represented by the Governor-General, is considered the supreme ruler. In the early years of independence, it was Great Britain that provided military defense to the country. Now they are doing it and the US.
Grenada is inhabited by a little more than 100 thousand people, including local residents living in the province. The province speaks French, but English is considered official. This is convenient for future and present immigrants: it is enough for them to know English.
SAFE PLACE FOR CHILDREN AND MONEY
In Grenada, you have two advantages.
First, you will not have to pay a lot of taxes if you decide to open a company here. It is offshore, and here they are interested in business development, both local and foreign.
Local banks offer the opportunity to open an account and securely save money on deposits. The bill can also be settlement: in any case, you are guaranteed confidentiality and full rights, even if you are not a citizen.
The small population of Grenada is an advantage rather than a disadvantage. In the largest city and capital of the country - St. George's - a little less than 3,000 people live. The population, of course, increases in the tourist season, but it does not affect the comfort, security and silence. The order here is well guarded.
If you select not just a spare airfield, but a new home, and you have enough funds to arrange the move, you will find amazing nature, unusual beaches with black sand, and a hot tropical climate. All this is combined with a good infrastructure and a developed social sphere.
IT IS THE COUNTRY FOR THOSE, WHO CAN AFFORD IT…
Grenada love to visit yachtsmen, and she is known among lovers of tropical resorts. This is a relatively expensive resort, and the prices are not that small. For example, the average cost of vegetables and fruits is about 200 rubles.
However, if you are interested in housing, you will not spend too much: with a long-term lease you will have to pay from 12 to 50 thousand rubles for an apartment (depending on the location and living space). Property prices are not very big, and a wealthy person can afford to buy a villa by the sea or an apartment in the city.
Interestingly, the average salary of a Grenada resident is close to Moscow: about 50-60 thousand rubles will ask your future employee if you decide to open a company here.
GRENADA IS THE NEW ISLAND OF FREEDOM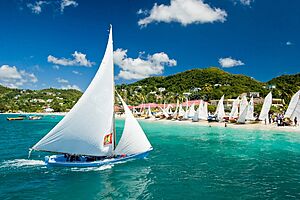 Grenada can be easily confronted with Cuba: while communism flourished in the possession of Fidel Castro, Grenada gained independence, developed the economy and relations with major countries. Here you can gain complete freedom: in movement and finances.
For example, the state works closely with the United States, and the citizens of Grenada can easily enter the US, do business, work, and simply live in America. There are no obstacles in the form of visas and green cards from local residents.
The visa will not have to get a Schengen visa: the citizens of Grenada are allowed visa-free entry into Europe. Almost half of the world you can drive around, having one passport with you. And not only bypass: you are not obliged to pay taxes on income, wherever you are.
DO YOU WANT TO OPEN NEW OPPORTUNITIES FOR YOURSELF?
Or maybe pick up a add option?
Grenada will be your window to the world of developed and leading countries. No more restrictions and paperwork!
Curiously, Grenada gives citizenship to all those who can invest in the country's economy. The country does not impose any special requirements on future citizens. You can get a passport for 4 months (or even earlier): so much will take the paperwork. Fly to the island, have an interview, to prove that you can manage finances and have education, it is not necessary. You do not need to live in the country: you can be considered a citizen, even if you have never stepped onto an island.
You do not need to give up your first citizenship and pay double taxes.
PROGRAMMS OF OBTAINING THE CITIZENSHIP
It is difficult to call these programs immigration: many of those who own a passport, have never been on the island and just do not plan to move. Some of them live and work in the USA or Europe.
There are two options.
Non-repayable investment
In fact, you simply buy a country's passport, investing $ 250,000 in its economy. You can take along your spouse (or spouse), children under 25 and parents if they are over 65.
There are additional fees.
Investments in real estate and other investment objects
The government of Grenada has approved a list of objects in which wealthy people can invest from $ 350,000. For additional family members - $ 25,000.
Doing business and personally coming to the island is not necessary. It is enough to invest money and keep the property (or business object) for 4 years. Passport will be provided to you immediately. After 4 years, you will be able to sell the object and invest in something else (for example, in the real estate of another country).
Grenada investment programs are an honest, simple, and fastest way to get a second citizenship. Read more about them and make a decision.